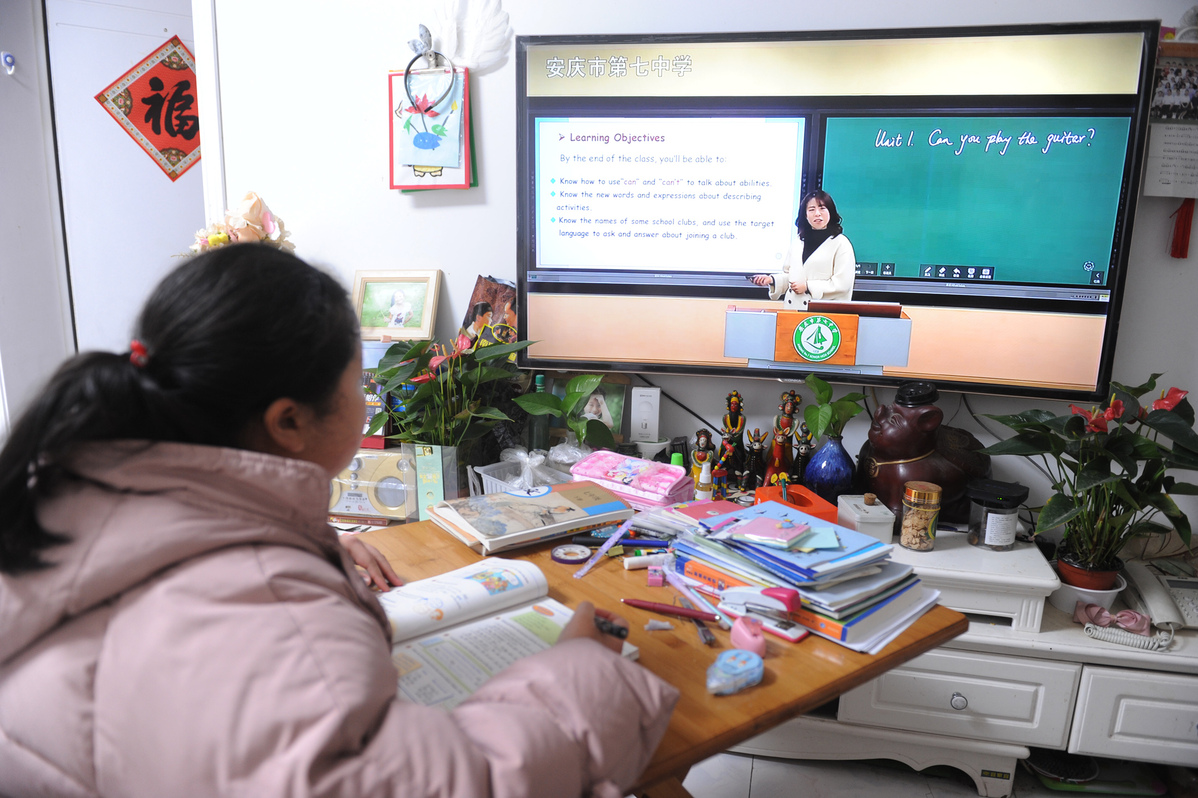 Several ministry-level departments, including those responsible for industry and information technology, education, and commerce, have recently responded to issues of public concern.
More effort needed on remote area networks
Local governments and providers of telecommunications services and infrastructure should work to ensure sufficient internet speed for online school courses, the Ministry of Industry and Information Technology said in a notice.
The notice, released online on March 3, was issued to communications administrations in provincial-level regions, the three major telecommunications companies-China Telecom, China Mobile and China Unicom-and China Tower, which builds infrastructure such as base stations.
They should address the issue of weak signals for students in remote areas and make internet access more affordable for impoverished families, the ministry said.
They should keep strengthening the construction of broadband networks and 4G and 5G base stations, speed up their efforts to include remote areas in the networks and make sure schools in areas seriously hit by the novel coronavirus outbreak will have smooth internet access.
Providers of online education platforms should keep improving their performance and the experience of teachers and students using them for online courses, the ministry said.
It said it will test the platforms' performance, including download speeds and the frequency of video buffering, and publicize the results.
The ministry is also encouraging companies to reduce internet service costs for students in impoverished families.
Many universities and schools have turned to online teaching to avoid gatherings of people and reduce the risk of them catching the virus.
Authorities urged to help graduates find jobs
Education authorities should help more college graduates find jobs during the employment season, the Ministry of Education said on Wednesday in a notice aimed at mitigating the novel coronavirus outbreak's impact on the job market.
The ministry said the authorities should promote employment at the grassroots level and in sectors such as modern agriculture and public service, adding that they should encourage more college students to join the army.
Also, senior high schools and kindergartens that are badly in need of teachers should hire more college graduates, it said.
The authorities should increase this year's student enrollment for post graduate study, the ministry said.
The quota increase should mainly go to universities and colleges in central, western and northeastern China and majors where research is vital to national strategies or the improvement of people's well-being, according to the ministry.
It called for more online recruitment activities and support for students graduating in Hubei province, the epicenter of the virus outbreak.
There should also be specific plans to promote employment for students from impoverished families or those with disabilities, it said.
The ministry also called for firm opposition to any form of employment discrimination against graduates, and urged strict prevention of fraud and exploitation.
Demand for cars and appliances picking up
The consumer market is starting to turn for the better as the outlook for the novel coronavirus pneumonia epidemic improves around the country, Wang Bin, an official with the Ministry of Commerce, told an online news conference on Thursday.
The ministry's monitoring of 1,000 retail companies showed their average daily sales in late February were 5.6 percent up from mid-February, said Wang, deputy director of the ministry's Department of Market Operation and Consumption Promotion.
It was the first growth since late January, Wang said, adding that demand for automobiles in late February increased by 14.8 percent compared with mid-February.
Telecommunications equipment and home appliances also saw increased demand, up by more than 11 percent, he said.
One reason for the increase, Wang said, was that progress had been made in the country's efforts to control the epidemic, thus reducing panic.
Also, companies were speeding up their efforts to resume business, and the market had begun to see more consumer demand, he said.
China Daily