On March 16, 2020, completed by the research team led by Co-Deans Ronghuai Huang and Dejian Liu, the Handbook on Facilitating Flexible Learning During Educational Disruption: The Chinese Experience in Maintaining Undisrupted Learning in COVID-19 Outbreak was released on official website of UNESCO IITE.


(For more information, please refer to
https://iite.unesco.org/news/handbook-on-facilitating-flexible-learning-during-educational-disruption/)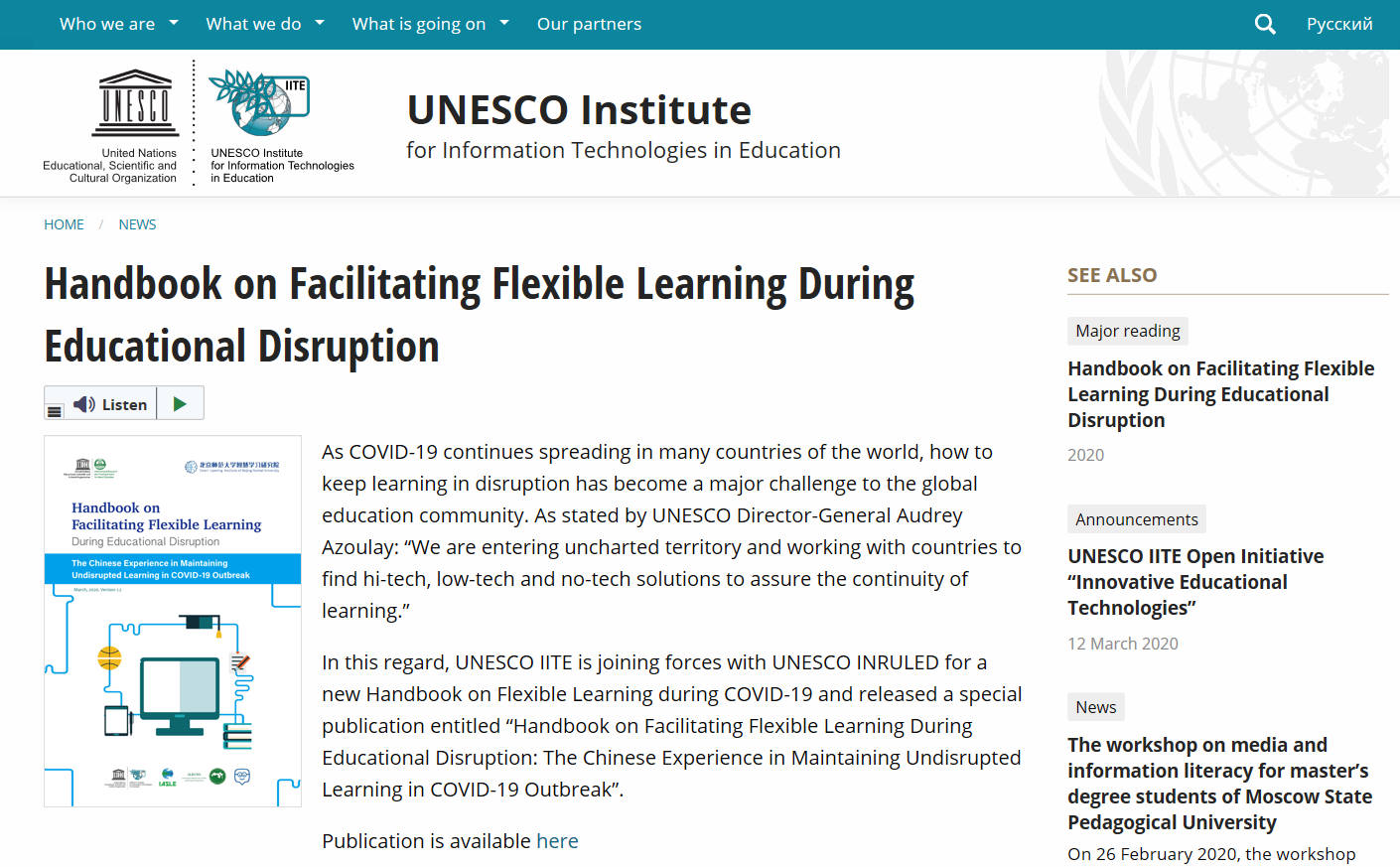 The handbook discusses seven core elements for providing flexible learning, namely (1) network infrastructure, (2) learning tools, (3) digital learning resources, (4) instructional organization, (5) learning methods, (6) supports and services, and, (7) collaboration between governments, enterprises and schools. Inspired by the united solidarity and innovative experiences of millions of teachers and students, this handbook aims to define the term "flexible learning" with vivid examples and touching stories. Several suggestions are also presented to help international educators and researchers apply similar cases studies in their respective contexts.


In the handbook, according to the literature and international experts, several challenges are made during the application of online learning worldwide. For example,

Internet connection can be unreliable if there are thousands of learners learning simultaneously;

Some instructors can find it difficult to find online resources that are the most suitable in their teaching contexts because thousands of resources are published online;

Several instructors and learners do not have the appropriate digital skills to teach and learn online. This can make the online teaching/learning experience inconvenient for them;

Several learners lack crucial learning competencies, such as adaptation, independent study, self-regulation and motivation, which are key factors for successful online learning;

Several instructors simply use direct instructions without considering important features of online learning, such as interactivity, social presence, and cognitive presence, resulting in unmotivating learning experiences.

Based on the Chinese practices to maintain undisrupted learning during COVID-19 outbreak, the following experience is identified to facilitate flexible online learning.

Top-level departments of the government collaborated with each other and then coordinated with regional government agents, colleges, schools, and enterprises to ensure a reliable network infrastructure. The government collaborated with schools and enterprises of cyberlearning to provide educational resources and tools in the national wide via multiple channels so that instructors and learners can use them based on their specific needs.

Experts, schools, and governments also provided learning supports as professional training and immediate assistance for instructors, learners, and parents to guide them on how to use digital tools and platforms. The supports and services varied according to the features of particular education contexts (levels, regions, schools, subjects, etc.) Also, based on the abilities of ICT in Education, suitable methods were flexibly chosen to organize instruction according to students' school age, comprehensive qualities and learning content, so as to guide effective autonomous learning. A manual on "how to teach and how to learn" and online video micro-courses should satisfy the current needs of front-line teachers and students.

The government, in collaboration with special education specialists, adapted several learning materials to the needs of learners with disabilities (e.g., mental retardation) to cater their specific learning needs during the COVID-19 situation. Additionally, instructors further provided appropriate online support for learners with special needs, such as one-on-one tutoring and real-time communication with parents, in order to provide an inclusive online learning experience for them.


Based on the Chinese practices and experience above, this handbook identifys the following seven core elements of effective online education in emergencies.
(1) Ensuring reliable network infrastructure, which can handle millions of users simultaneously, is crucial to support smooth online learning experience without interruption.
(2) Using friendly learning tools is beneficial to learners in finding and processing information, constructing knowledge, collaborating with peers, expressing understanding, and evaluating learning effects in concrete ways.
(3) Suitable digital learning resources are the premise and foundation for effective online education.
(4) During the period of preventing the epidemic, according to the scale of participants and their cognitive levels during the learning process, schools at all levels and kinds can guide students to choose appropriate learning methods on the basis of specific and applicable educational scenarios.
(5) Promoting effective methods to organize instruction by adopting a range of teaching strategies, such as case studies, open debate and discussions, learners-led discovery, experiential learning, etc.
(6) Providing instant support services for teachers and learners on learning about urgent school and governmental policies, using effective learning technologies, tools, and resources and collaborating between the government, schools, enterprises, families, society, etc.
(7) In the face of the current needs of online education during the epidemic and its future development, the government should play multiple roles in policy guidance, overall coordination and effective supervision, etc. The government should also coordinate enterprises, schools, research institutes, families, the society, etc. to build smooth communication platforms, select suitable learning resources, provide convenient learning tools, encourage diverse learning methods and support flexible teaching methods. Effective support services for online education will be provided through the close cooperation of multiple parties.

Since January 2020, as COVID-19 continues spreading and many countries have announced school closures nationwide, how to keep learning in disruption has become a major challenge to the global educational community. As stated by UNESCO Director-General Audrey Azoulay: "We are entering uncharted territory and working with countries to find hi-tech, low-tech and no-tech solutions to assure the continuity of learning."

The UNESCO Institute for Information Technologies in Education(UNESCO IITE)was established in November, 1997 and is located in Moscow, Russia. UNESCO IITE is the only UNESCO category 1 Institute that holds a global mandate for ICT in education. The mission of IITE is promoting the innovative use of ICT and serving as facilitator and enabler for achieving Sustainable Development Goal 4 (SDG 4) through ICT-enabled solutions and best practices. Over the twenty years since its foundation, IITE has accumulated rich expertise and experience in promoting ICT in education, with strong support and guidance from UNESCO Headquarters, UNESCO IITE Governing Board and the host country.